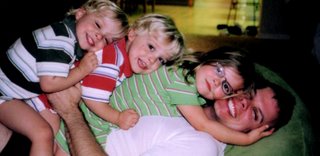 We got the chance to get to know Kyle when he joined the faithmaps discussion group some time ago. His tragic death at so young an age rocked many of us in the emerging church conversation. Tony Jones, the National Coordinator of Emergent Village, announces Kyle's Film in a recent Emergent Newsletter:

"So many of us continue to miss Kyle Lake. All the time people talk about "tragic" deaths, but his death truly was tragic. And Julie and I grieve to think of Jen and the kids. But Kyle also left a beautiful legacy of life, and a film to that end is just wrapping up -- it's a tribute to Kyle's life and his faith, and I strongly recommend it. And, all of the proceeds will help fund his children's college funds. Here is some more information from the people who are putting this together...

There is no doubt that Kyle Lake, former pastor of University Baptist Church in Waco, TX, lived life to the fullest. Both his inner and outer beauty will be remembered by all of us. "Kyle's Film" is a project that we are doing to honor the life and ministry of our friend. Kyle's last sermon was surprisingly very cinematic in its nature. Not only did it detail appreciating beauty in the ordinary things, but engaged a sense of inspiration and an eerie comfort in the wording. With this project, we are not elevating Kyle to a level of worship and admiration, but rather we are celebrating the beauty of God that was seen through Kyle's life.

This spring, we began production on "Kyle's Film", an interpretive, impressionistic, and cinematic short film based on Kyle's last sermon. We filmed everything in 35mm (which is the Hollywood standard for productions and used the same film stock as many recent films- Capote, Crash, etc.) and transferred everything to high definition. Right now we're working on post production and working with some of guys from the David Crowder Band for an original score. For the second half of the film, we are focusing more on Kyle's life through video and pictures of him and his family etc. We should have everything finished up towards May, and the running length should be around 10 minutes for both parts.

We are in the process of also setting up a way for people to pre-order the completed DVD when it is done in May. Congress Clothing will be handling the ordering process through their website, and all the proceeds will be donated to the Kyle Lake Memorial Fund, which will go towards his children's college tuition. You can find all of the information about the film on our website, www.kylesfilm.com, which has a trailer, links to our production blog, and the pre-order page. We hope this film will show Kyle's message of loving God, embracing beauty, and living life to the fullest to as many people as possible."